Greetings for Everybody
---
Hello, I'm VazquezG19 and it is a pleasure to meet you, and would love to get know all of you better. I'm a giant fan My Little Pony Friendship of Magic, Pokemon, Dragon ball Z, Full Metal Alchemist, and many more shows! As you will see, I'm quite open on all these shows and love to chat about many shows with you. I'm also a drawer on mostly My little pony and other shows, if you would like you can Commision me.
I also can be found on tumblr, Inkbunny, and Furrafinity. I'll always will be happy to greet my new friends, and please always be kind. If you would like to give any llamas, points, fan art of my OCs, or any friendly message, they will be thanked and very appreciated! My pages will not accept under any circumstances messages of hate, bullying, racism, spasm, and any type of bigotry, be warned that you will be blocked!
Here are the links to my pages, be warned they will have some NSFW!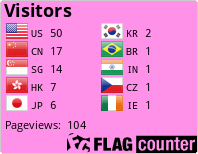 Get a FREE visitor map for your site!